For some of us who admire the splendor of a grand architectural structure, it doesn't quite occur to them how important the safety and durability of a building and its structure is, after all. Rohana Shoring & Piling is a Sri Lankan company that has been focusing on this vital area of ​​construction projects for over 15 years and providing strong and secure foundations for some of Sri Lanka's most iconic landmarks. They provide you with reliable assurance to continue building this valuable project with great confidence.
The superior quality of services offered by Rohana Shoring & Piling along with the dedication of its industry experienced and skilled staff could be defined as the backbone of a number of successfully completed structures proudly showcased by recognized construction and project management in Sri Lanka.
The company, on the occasion of the unveiling of its new website www.rohanashoring.com and revamped corporate logo at Avenra Garden Hotel, Negombo wishes to reach out to the world with a new message. It will be a fast track with its own team and everyone who has joined hands in their journey of business activities so far.
Rohana Shoring & Piling envisioned reaching into certain areas of the construction industry that had not been directly handled by its team of experts in the past. Existing clientele and others might expect additional services related to construction and project management from a company with a reliable track record.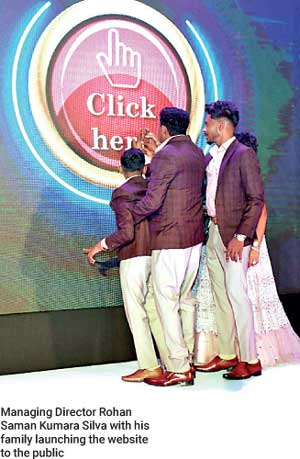 Our future outlook is to further develop our range of expertise to meet the ever-increasing demand in the field. We hope to become pioneers in difficult and complex construction projects by identifying soil problems, dealing with rocks in site areas and building on slopes or hills. We plan to provide these services for our own construction projects or third party assignments in the near future and look forward to serving you even better, Rohana Shoring & Piling Director Rohan Saman Kumar Silva mentioned in the recent meeting.