I'm glad my mother died (documentary/memoir – hardcover) by Jennette McCurdy
A heartbreaking and hilarious memoir by iCarly and sam and cat star Jennette McCurdy on her struggles as a former child actress – including eating disorders, drug addiction and a complicated relationship with her overbearing mother – and how she regained control of her life. McCurdy tells his story in a candid and refreshing voice, mixed with humor.
Encourage joy (documentary – hardcover) by Ross Gay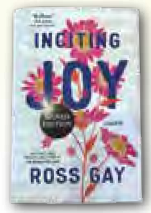 In beautifully written and timely pieces, award-winning poet and author Ross Gay considers the joy we instill when we care for one another, especially during life's inevitable hardships. Through encourage joy, it explores how we can practice recognizing this connection, and also, importantly, how we extend it.
Mistakes have been made (fiction – paperback) by Meryl Wilsner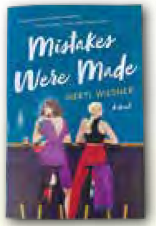 From the critically acclaimed author something to tell comes a sharp and sexy rom-com about a senior college student who accidentally hooks up with her best friend's mom. What should have been a once-in-a-lifetime adventure quickly proves impossible to ignore, and soon Cassie and Erin are sneaking around. Worse still, they begin to realize they have something real. But is being honest about the love between them worth the cost?
Events to come
Sunday, November 6 at 1 p.m. (free in store/Corte Madera) Dani Shapiro, author of Traffic lightsin
interview with Sylvia Boorstein
This is a "captivating" new novel (People) from the best-selling author of Legacy. Traffic lights opens on a summer evening in 1985. Three teenagers have been drinking. One of them gets behind the wheel of a car and, in an instant, everything changes on Division Street. Each of their lives, and that of Ben Wilf, a young doctor who arrives on the scene, is shattered. For the Wilf family, the circumstances of this fatal accident will become the deepest secret, a secret so dangerous it can never be told.
Thursday, November 10 at 5:30 p.m. (free – online) Joan Baranow, author of A Little Thing, Happiness,in
conversation with Amy Crider
In A little thing, Happiness, readers discover reproductive experiences rarely found in poems and are rewarded with the miracle of ordinary family life. As the title poem suggests, the sight of a red squirrel falling into a bird feeder – no matter how light – can be enough for happiness.
Saturday, Nov. 12 at 12 p.m. (paid/online and in-person hybrid event) 34th Annual Kidney Writer
Foundation Luncheon (SF Palace Hotel)
The National Kidney Foundation Writers' Luncheon is the largest literary event of its kind in the Bay Area, allowing those who are passionate about literature to join the NKF in the quest to transform kidney care and… to improve the lives of millions of people through education, advocacy and research. Featured authors include former United States Poet Laureate Billy Collins; novelists Michael Connelly, Jennifer Eagan, Margaret Wilkerson Sexton and Siddhartha Mukherjee.
https://www.bookpassage.com/
Top of Your Stack – Book Passage Recommendations
Posted on November 3, 2022